Asthma Testimonials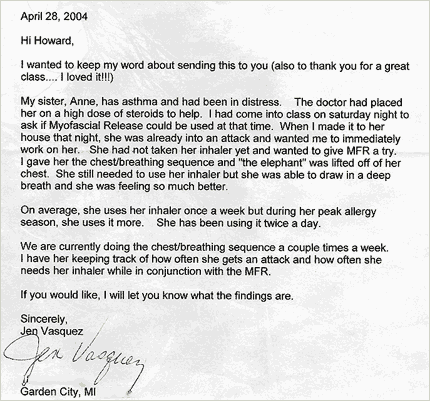 Hi Howard,
I just wanted to let you know that after having her massage, my sister, Anne, was doing great!! She is still breathing deep and fully. She says "Thank you! Thank you!! Thank you!!"
Jenny Vasquez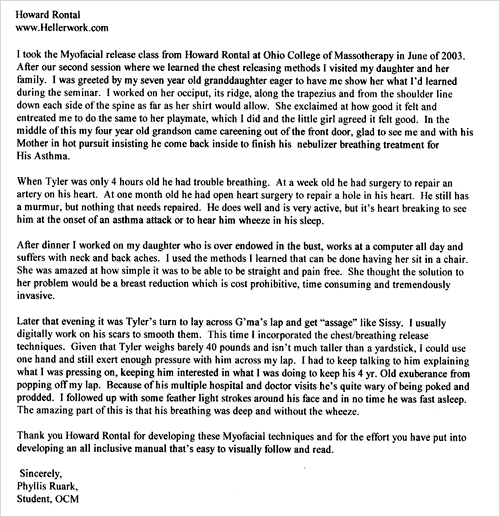 My name is Jennifer Mshabbek. I am a student at the Ohio College of Massotherapy and took the Upper and Lower Body seminars. I want to tell you about the results that I personally have gotten from this work being done on me.
I was burned when I was 2 on the left side of my chest. The burn has made a great constriction on my muscles so I have tended in the past to not over stretch them. I was a swimmer for almost 8 years and developed sports induced asthma. I had to quit swimming because the water temp was part of the cause of the attacks.
Once I was induced I haven't since been able to take hot showers. I am now 24 and for the first time in 8 years have been able to take a hot shower. The upper body work released all the constriction of my muscles on the left side and I am able to breath deeper. Since I had the upper body work back in October I have been sleeping better and been able to run on a treadmill without using any inhalers.
This past weekend I went to the lower body seminar hoping that I would gain more freedom to breath and I did a little from it but the most results came after Sunday when we did the review of the upper body strokes. I am today still able to breath have not had any reverse actions, no asthma attack, and slept a whole 7 hours without waking because I wasn't able to breath.
Thank you for a great seminar. I will be using this technique on my clients very soon. I did use it on my husband whom was almost killed by a machine at work 3 years ago. He has chronic lower back pain and can't sleep through the night. However, last night he did. He slept like a baby and when he woke this morning he wasn't stiff and was able to breath deep again. I will keep in touch and let you know if this continues to help him, myself, and others.
Thanks very satisfied
Jennifer Mshabbek