Back Pain
Testimonials from Howard's Massage Clients
I first visited Howard over a year ago for pain in my lower right backside that had persisted for over 5 years – in spite of all efforts to alleviate it. Howard was recommended to me by a very trustworthy health care professional, and so I had high expectations and hope.
I was not disappointed. After my first session, I felt 10 lbs. lighter! I worked with Howard over several months and was surprised to find that, lo and behold, my back pain was no longer there! Since then, I've continued to visit Howard regularly to work on my many and varied issues – none of them as debilitating, but aggravations none the less. One by one, they are disappearing.
I should mention that since I am in Virginia and have to put up with the often heavy traffic to commute to his office in Potomac, I would never go if he was not so absolutely exceptional!
Sincerely,
David Brower
May 12, 2011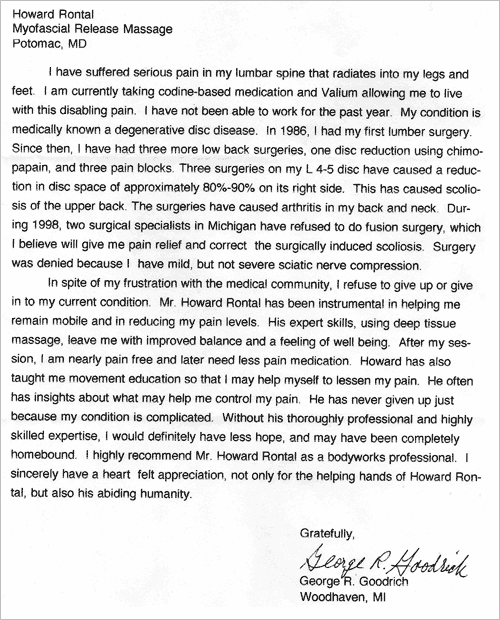 Dear Howard,
You have a truly amazing intuitive gift with body-work. In a series of five fairly short treatments over 2-3 weeks recently, you were able to release blockages and tension in the pelvic area that have prevented me for the last fifteen years from sitting comfortably cross-legged on the floor. Now I can sit easily on a cushion in a cross-legged position for a one and half hour meditation, and have no ill-effects or discomfort.
Much love and thanks always,
Carolyn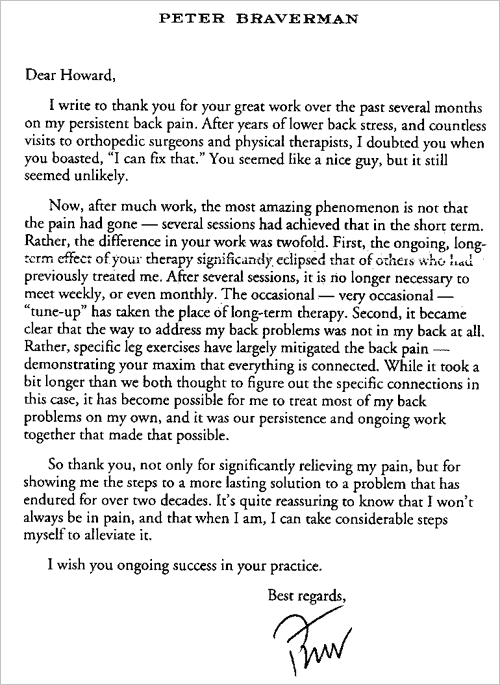 Dear Howard,
It's been a little more than a week since I visited you for an extremely painful pulled muscle in my back. While I would like to say I feel as good as new, I can't – because I actually feel better!
I appreciate the time you took up front to understand my medical history. I was pleasantly surprised to feel relief almost immediately, as you worked to improve my breathing, and stretch muscle and tissue throughout the body.
I left your office after just one session knowing I would recover fully, and I'm pleased to report I was right. I also found that I was standing taller and breathing more deeply--added benefits that continue to this day.
I'm extremely grateful for your gift of healing. I've already shared this success story with several friends and colleagues. In addition, you've earned a key position on my telephone's speed dial, should I ever need you again!
Thanks so much!
Sincerely,
Karen Buglass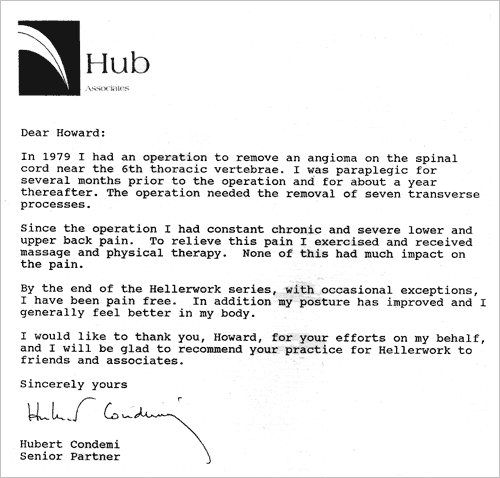 Dear Howard,
I wanted to thank you for the great job you did with my back. I honestly would have never thought that in 3 sessions I would be cured and able to run and do all things I wasn't able to do before I met you. When I first came to you, I had severe pains in numerous places throughout my back.
Within a couple of days after the first session, I began to notice more flexibility and less pain in my back. I credit your ability to figure out exactly what was causing those pains and then be able to find a solution to a problem that has been effecting me for years. Your therapy was very rewarding, because although it hurt at times, I realize now, that was the only way to fix the problem.
I wish you the best of luck with the Heller Work and everything else. I know if I ever have any problems again with my back, you will be the first one to know. Thank you so much.
Best regards,
Jared Heiman