General Testimonials 3
hello howard,
my name is shanna beavers . i was involved in one of your 3 day courses at bancroft school of massage. i just want to let you know how impressed i am with the work. ive been using it with wonderful results on all my clients. they cant wait until i learn more.
i was curious to know when the myofacial release 2 and 3 will be and where. i lost the place and dates but definately want to go where ever they may be. hope all is well and that your move went smoothly.
thanks again
shanna:)

Howard,
I hope that's what you were looking for... I tell you I love using the Hellerwork myofascial approach... it gives me great results with my clients and is truly amazing. I have been to other fascial workshops, non compare to yours!
I look forward to the lower extremity workshop in the fall...
One other question, there is a MT that also provides your workshops in NC... is it possible to attend one of his lower extremity workshops and receive the credit toward the certification? ( my parents live in NC) just a thought?
Talk to you soon
Lori-Ann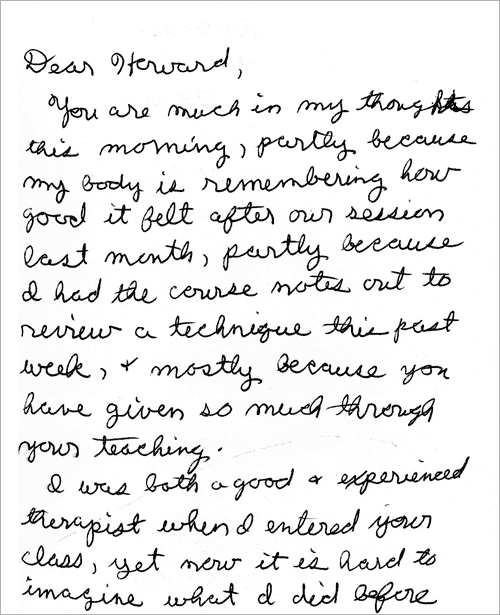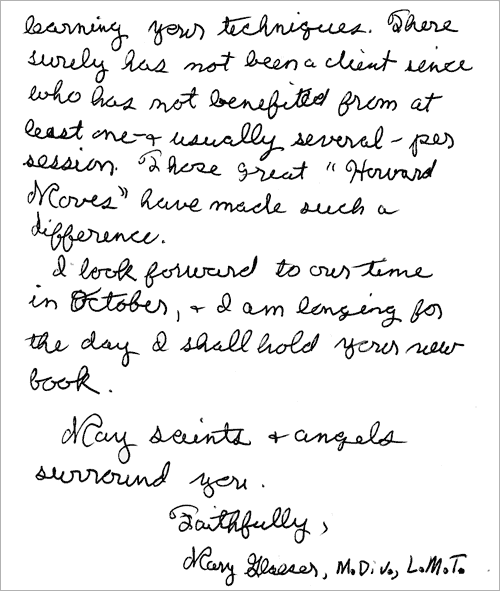 OH---Howard:
Unbelievable to learn that just this day..someone actually is willing and waiting to quit her job and become a myofascial release practitioner...!! For real!!
Also, must add to my notation that the man whom I meantioned to you that was a multi-millionaire and had lost his dearest wife a year back came to have his session this morning and while giving the myofascial release..he fell into a deep sleep and afterwords said that he "felt like a million" and scheduled more treatments....
He said that the treatments are making him dream of all the wonderful times he shared with his Marie..and that he has found a new love in his life with his two children that have children...he has a full circle connection now and his family has responded back!!! At this time in our lives..this is the real reward!!!
Tonight..at 9:00 I have another treatment on a farmer that has never felt this "healthy" since he was a kid of 17. He said that "whatever I did for him has made him of 54yrs old feel like he could work for 12 hours without a second wind"...I am soo happy to assist in what you've led us all to find. People are whole again...in every facet of what life should become....I could truly just cry over this discovery...this is what life should be.
Thank you for this and so much more,
Rhonda!!