In Class Improvement 2 - Testimonials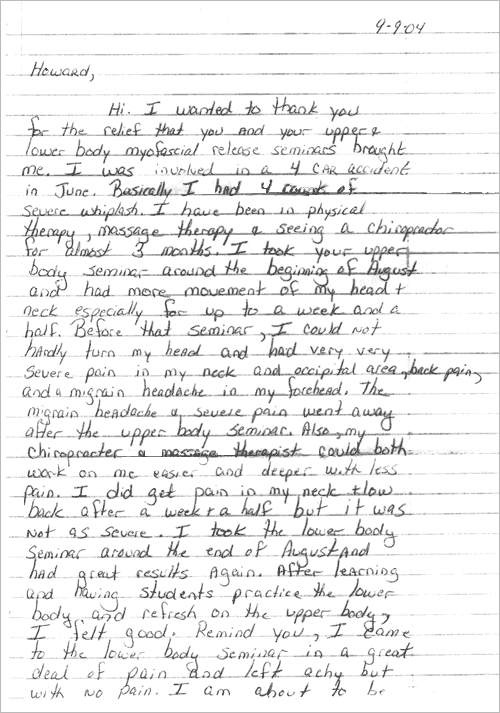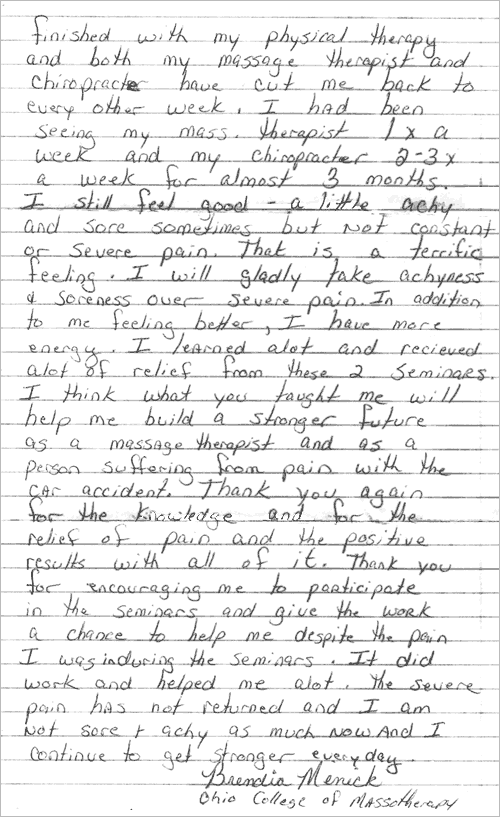 Howard,
I just wanted to take a few minutes of your very valuable time to express my gratitude for this seminar. I came into this seminar with a two year post surgical history with my left shoulder, and left absolutely amazed at results that were achieved in just one session.
I had an extensive bursectomy, acromial decompression, as well as distal clavical excision done as a result of a work related injury. After the "conventional" P.T. for six monthes after the surgery I was still left with limited range of motion as well as chronic stiffness, and pain.
On the third day of your seminar we addressed shoulder modalities, which made me cringe in pain just knowing and seeing what was about to happen. The work was VERY painfull, but I tried hard to breath and "tough it out", knowing that this could potentually help.
As soon as the work was done I emediately felt that the shoulder was more open and I was able to put my arm over my head in ways I have not been able to do in more than two years. I am happy to report that today is two days post seminar and I am still pain free as well as have maintained the range of motion that was achieved.
Thank you so much for this valuable tool to be able to put into my professional "toolbox", I am looking forward to the lower extremity seminar in April, and am truly considering becoming certified in this modality; as well as take the advanced stroke seminar. You and Scott are a great team of instructors !!!!
Sincerely,
OCM student,
Crista Poole-Caley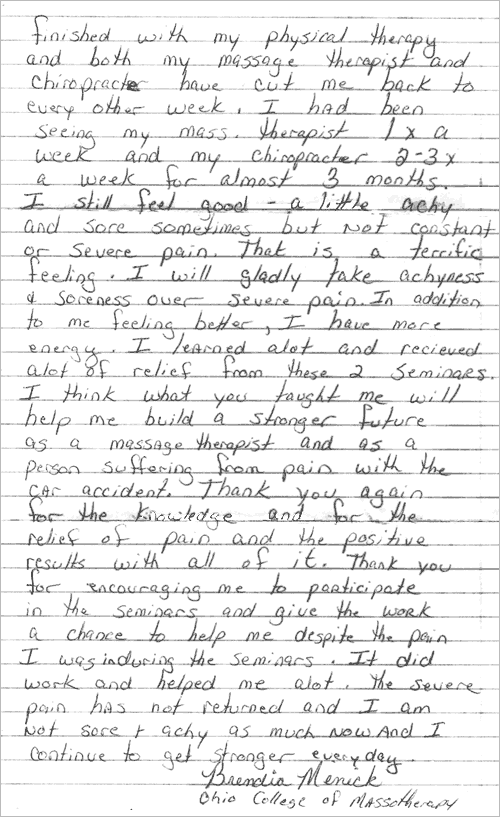 Hi Howard!
Hope you're home safe and sound.
I made it - MIGRAINE FREE and am feeling groovy. Anxious to practice the moves...
Please e-mail me an address. I was inspired to send you something as a token of my appreciation. It's my new favorite thing and I'd like you to receive it by the 19th. I really think you'll enjoy.
Thank you for sharing and all the love. (maybe that migraine was a blessing- still feeling all those gifted hands) You have a new fan in KY- my friends will want to come to the next one.
Sincerely, Kim