Injury and Trauma - Testimonials
Dear Howard,
I thought I'd let you know how the last treatment went. I'm not sure why, but for most of my life, my right shoulder has been quite tense and locked up higher than my left. Maybe that's because of playing all that tennis when I was younger.
After the treatment, I was sore in the back for a day and a half. You did quite some intense work on the back. Two days later, I was walking to the village, and all of a sudden my right shoulder just dropped into place. It wasn't gradual, it was very sudden - it literally just fell.
I haven't felt that for more than 40 years - my right shoulder as relaxed as my left. Then, about 2 days after that, a huge amount of tension just fell away from my neck. It felt very good to have all that tension gone, and to feel both sides of my shoulders equal again. An unusual feeling to feel so relieved of tension.
Just thought I'd let you know - once again you are the man with the golden hands.
best regards,
Elliott

Hi Howard,
One of my first myofascial clients provides us with a success story. This man has started a very large business, has a wife and three kids and apparently a lot of stress in his life.
He had a series of injuries from years of mountain biking. He tore his right achilles tendon and had a brachial plexus impingement and broken collarbone from a very old injury. He had a lot of cervical, shoulder & upper back pain. I did the 2 hour myofascial sessions with him and by the fourth session he emailed me to say all of the neck, shoulder & upper back pain had lifted. This was about 3 months ago.
I did all of the work in our sessions. He also started stretching and exercising on a regular basis. I think the work was definitely vital to his success but also because he listened to my advice on exercise that he did so well.
He took up meditation also to combat the stress in his life. He now comes in for preventive maintenance on a monthly basis and to date he still feels really good.
— Deb Schultz

In May 2007 I was injured in a construction accident at work and fell 25' off a bridge to the ground. I was very fortunate to have only sustained two lumbar vertebrae compression fractures, with multiple sprains to ligaments in my neck, back and pelvis.
I went through rehab and physical therapy for five months and then returned to work, limited duty. I struggled with moderate to severe daily pain. Though after nine months I was at full duty, with the nature of my work as a construction carpenter I still experienced multiple flare ups, i.e. muscle spasms and residual pain (5-7 on the 10 scale) and sometimes debilitating pain still persisted.
In addition to physical therapy, I had weekly acupuncture treatments, medical massage, energy work, and Chinese herbs which all contributed to my recovery to a degree. However, I was still at a loss as to how to regain as pain free a body as possible.
In my research to help myself I became aware of Howard Rontal and Myofascial Release Massage. (Though I worked as a carpenter by day, I had work as a licensed massage therapist (my passion) for 8 years. Since the accident I was unable to do much with massage because it was too much for my body) I signed up individual sessions with Howard, desiring to know personally the efficacy of the work and also signed up for the MRM seminars.
I went into the MRM session with Howard with a pain level of 5-6 and left the session with a 0-1 pain level! I don't know if I had been pain free since my accident. Now I was!
I couldn't believe the difference. I was breathing easier, moving easier, standing straighter and was relatively pain free! The depth of the work reached the trauma to my body in a way no other modality had. Subsequent sessions have provided lasting relief and ease of movement. Just a few months ago I wasn't sure all this would ever be possible.
Since then, I have taken both the Upper Body and Lower Body Myofascial Release Massage seminars. I have found that the techniques allow me to work again as a Massage Therapist, with much less stress on my body.
The techniques are a fast and efficient way to bring to my clients ease of movement and a marked reduction of pain. I was pleased to find that MRM integrated well with the other modalities that I use. My clients have told me that they are able to move in ways they hadn't for a long time and I attribute it to the addition of MRM to my repertoire.
This work has taken my work to the next level. I am so impressed with this work that I look forward to getting certified. Thanks Howard!
Sincerely,
David Bradford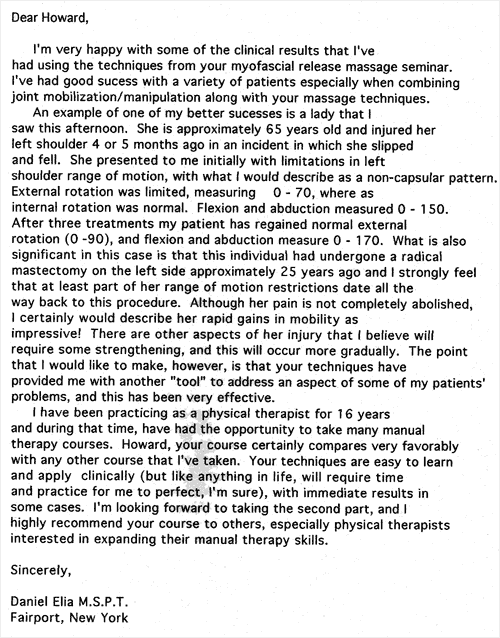 Hello Howard,
My friend at work (Jerry) had a severe cramp in his right Gastrocs' in 2000. This caused him to limp around for many days and it would flair up from time to time. This was long before I started massage therapy.
I would occasionally work on Jerry's shoulders and neck from time to time. Shortly after your class in upper body MYO, Jerry "sprained" his ankle. He said he laid on the floor for about an hour, unable to get up.
Well, he limped around for two days at work, before I cornered him, manning a very large fire extinguisher ( it was precautionary, there was no fire). He leaned on the fire bottle and I picked up his bad leg like I was shoeing a horse. Remembering the problem from 2000, I was guessing it was the same muscle pulling tension on its tendon in his ankle area.
I had him pull his toes toward his knee cap stretching his Gastrocs while I stoked distal to proximal. It took three tries for us to get coordinated. Each time I kept going a little deeper and each time I kept hitting a knot at the top of his calf. On the fourth stroke there was a very pronounced "POP" and Jerry shouted "OH MY GOD!" He started limping around in a circle, hopping up and down, and I thought I'd broken something.
He straighten out his walk, and got a big smile and the "sprained ankle" was fixed!! It's been a month since this happened and the problem has not returned. I hope I can get him on a monthly program to keep his calves stretched out and keep this from happening again.
Stan