Neck Pain
Testimonials from Howard's Massage Clients
About 4-5 months before I had a treatment from Howard I had a whiplash injury and would feel pain if i turned my head about 60 degrees from straight ahead on both sides. Howard did deep massage that was painful, but as soon as he stopped doing that on a particular muscle or area, it immediately felt better. After the treatment, I've been able to move my head 90 degrees left or right on most days.
I only had 1 treatment and sometimes when I'm sleeping I must move into a position that is not good for my neck, but it just takes a bit of stretching it the next morning so it is back to normal. Another benefit has been that I can turn around and back up the e-cart I drive, which is also a big relief.
Haniel Dufau Fiji

Dear Howard:
I have no hesitation whatsoever in offering you a letter of recommendation. Your practice of bodywork on me has been surprisingly successful in diminishing the chronic pain level that I had unfortunately become accustomed to by the time I first engaged your professional services.
My surprise stems from the previously demonstrated recalcitrance of the pain under other practitioners and techniques. After chiropracty, spinal surgery, acupuncture, and other myofascial manipulations, I was willing to give you a try. But I did not hold out much hope for very much success.
As part of a treatment regime including nerve root block injections at Georgetown University Hospital, your expert and helpful fascial manipulations have kept me from having to endure any further surgery to date. I see no reason why it should not continue to be successful in keeping me out from under the knife.
What I have observed about your method of proceeding (as distinguished from those of the other practitioners I have consulted) is that you demonstrate both a scientific as well as an intuitive understanding of the sources of pain and of strategies for its relief. Your combination of knowledge and insight is particularly powerful and is undoubtedly a significant component of your success in treating my case.
While I do not imagine that "one size fits all." I think it extremely likely that your approach to muscular and systemic pain relief through fascial manipulation is sufficiently well-grounded that other chronic sufferers may obtain relief at your hands as well.
Remembering that my case started with an auto accident 29 years ago, followed by hundreds of chiro, acupunc, and myofascial sessions as well as a single surgery, it is a great tribute to your abilities and accomplishments that you have been able to bring me as much relief as you have. Now that the major recovery hill has been climbed, I intend to continue using you in order to remain "tuned up" so that there is no falling-off in my condition, at least not insofar as you and I together can avoid it.
Thanks again for all your healing concern, and please accept my wish that many another client may come to you to receive a similarly strong alleviation of his or her symptoms.
Faithfully yours,
James McC. Yeager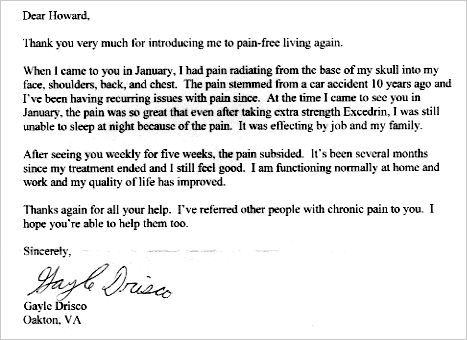 Howard,
I have no hesitation in writing this letter of recommendation.
I injured my neck fifteen years ago after a bike accident. I have been experiencing cervical pain and muscle spasms since the accident. I have tried nerve blocks, pharmaceuticals, and acupuncture, chiropractic and home remedies with little long term success.
Since our twelve sessions of myofascial massage, I have noticed that my wind-up pain has decreased and my cervical tissue seems more pliable. I am encouraged by this progress and hope it will continue in the future with further treatments.
Again, I would recommend anyone who is experiencing chronic pain to give you a call.
Regards,
Terry