Plantar Fasciitis
Testimonials from Howard's Massage Clients
Howard Rontal worked on me to help get over plantar fasciitis. It was diagnosed by my medical doctor and physical therapist who both gave me exercises to stretch the muscles, which helped but did not remove the pain altogether.
Howard's work did the trick and I am now pain free. He got into the fascia and other areas I don't remember the names of that the exercises seemed unable to deal with.
Malcolm Burke

Howard,
I want to thank you for all the great work you've done on me in the past few years. This work has helped straighten my body out.
I regained a half inch of height in a couple of our sessions where you reduced a kink in my spine that had probably been there for forty years. It no longer takes so much muscular effort to maintain a standing position and I even feel more relaxed laying in my bed at night. In some ways, I feel twenty years younger.
I also want to thank you for the training that I've taken from you. The techniques are easy to apply and Immediately give one the ability to help others. While learning the strokes for the feet and lower legs, I was able to give relief to a couple of clients who had been under treatment for plantar fasciitis for years.
Both said they had received no relief even though they had gone to a therapist once or twice a week for over two years; bought special shoes and expensive orthotics. After 5 or 6 sessions, the symptoms were almost completely gone. I've done a few follow-up sessions since then, and it's amazing how well their feet are doing. These were two people who had almost given up hope.
I've seen some students achieve almost miraculous results while being worked on In some of your classes. After the advanced class, I came out of there walking on air, after the ten hours, more or less, of body work I received from some of your advanced students, who were themselves excellent body workers - all included in the price of tuition.
Sincerely,
Michael O'Rourke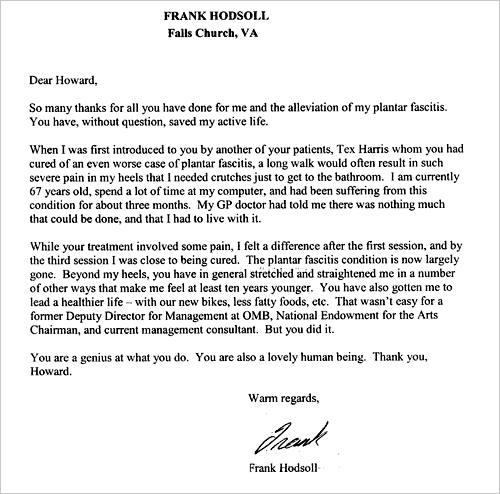 Howard --
I wanted to thank you for your great work in allievating my foot pain. I have been to four podiatrists, an orthopod, and the top ankle-foot doc at Georgetown and no one had been able to help me.... Your Hellerwork sessions are the only thing that has really brought relief to my severe foot pains. Many thanks for your help to my well being.
cheers and best regards,
Tex Harris