Posture Testimonials
Hello Howard,
I wanted to write you to tell you how much I have benefited from your teachings. For a long time now I have been trying to figure out a way to help my mother that suffers from Kyphosis and after taking the lower body classes did it dawn on me that doing the upper body for her symptoms that disable her on a daily basis, but working on her lower body to help improve her balance, did we figure out how to help her posture.
After taking the classes I came home and laid her on the table. I did the sequence of strokes and after I finished and stood her up, I got so excited because not only did she say that she could breath without feeling labored, but she got some of her height back and the kyphosis was much more flaccid.
My father was very amazed at the results and asked me to work on him the next night. He is much more flexible than my mother, so I didn't think that I had made a difference, until I spoke with my mother that next day and she told me after driving the 10 hours home he didn't feel the need to see the chiropractor that he normally sees after a trip like that. I was very happy with the results and having the means to help my mother and father.
I also started using the techniques on my clients with good results. I have focused on clients that have been coming to see me and after asking them if they feel like they are getting the results they are looking for, I turned to Myofascial Release. They have noticed a change and are letting me know. I am excited about having another technique to add to my pocket of healing. Thanks so much!
Yours in health,
Cindy Walters
Falls Church, VA

Dear Howard
I have a weekly client who receives myofascial release once a month & when measured at the DR's office is now 1/2 inch taller. She was shrinking before I started the work on her. She is in her 60's. Thank you!!!!!!!!!
Janet S. Riegsecker
Grosse Pointe Woods
Michigan
Inner Wisdom Services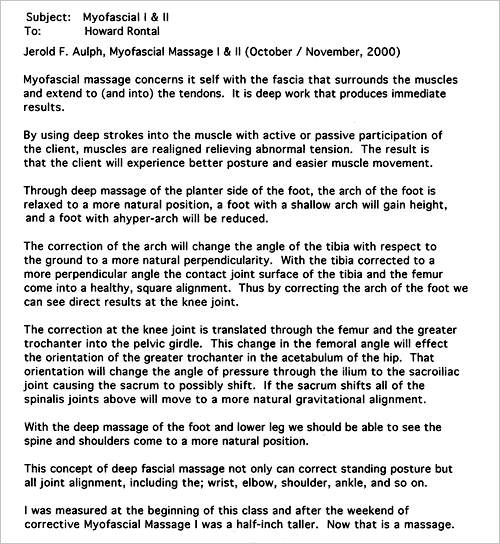 Dear Howard...
Was just about to write you...thank you so much for sending my necklace! Got it today! I will look forward to getting the manuals and taking them with me to Esalen. We will see how it is received. Will keep you posted.
Yes the Hellerwork is phenomenal...and your work as well...worked on a friend tonight who has had a chronic problem with hunched shoulders to the point that she has a hump back and she is only 47....I did quite a bit of work on her using many of the techniques I used in class...she is a Yeun Energetics worker and has been doing energy work on her back for some time and had a massage therapist working with her for 4 years once a month...we were able to achieve tonight more than has been accomplished for 4 years!
She said she felt like she had a midriff and we could see the difference in that she was actually standing up straighter and could breathe better and with no pain afterward! Miraculous! I told her that we would try and accomplish as much as we could and that when you were in town again that we could go to see you...definitely one of those clients where bringing her to you would be really helpful for me and her...so I will do my best between now and then and ask for your hands to work through me...you are the best Howard! Will keep you posted on the progress.
For myself...I have had some amazing releases since i saw you and had my teacher/mentor do some really intense work on me yesterday....he addressed the torque that i described to you...there was one going from right to left and one the opposite way as well....i was all over the table and we had some incredible results and i think it was because of the work i did with you the previous week...set the stage for this work to be done...i feel now like i am un-torqued and more right than i have been maybe ever...I also feel re-anchored. Amazing and wonderful...thank you also for the feedback that you felt i was pretty much cleared...that was good feedback because it is really difficult to know when it's you that you're trying to gauge.
Yes I started the book...fascinating and a good read...will let you know more as i go along. The Fusion Reiki is in you and when you get to it you will...it is all in Divine Right Order...All the Highest and Best to you Howard!
Much love and namaste' jan