Rehabilitation 1
Testimonials from Howard's Massage Clients
Pages: 12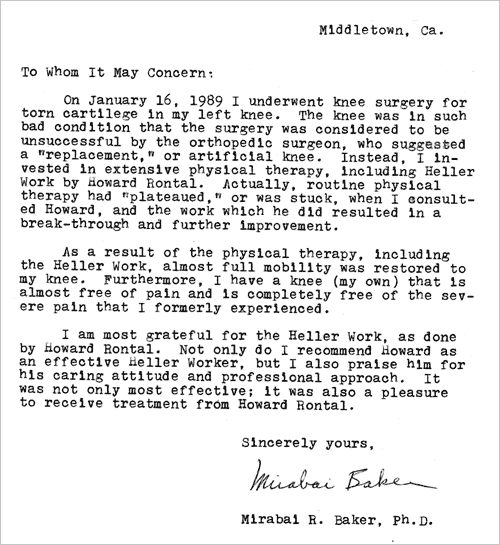 My name is Lanah Converse, three years ago; I suffered from an Aortic Dissection. This event left me with a spinal cord injury. I was paralyzed from the waist down.
When I left the hospital, 40 days latter, I was only able to transfer from my hospital bed to my wheel chair. In these 3 subsequent years I have had to learn to walk again, to wake my muscles back up and to recover.
I've had lots of standard PT and it did help, however what has helped me enormously in my ability to walk has been the work that I received from Howard Rontal. That, along with stretching (which Howard demands of me) has taken me further than standard PT. I don't understand why physical therapists are not instructed in Myofascial Release work.
Thank You Howard and Bless You
Peace

Hi Howard,
I just wanted to tell you it was a pleasure meeting you and I really enjoyed our 2 myofascial massage sessions. I have been asthmatic since childhood and have had restricted breathing and neck/back pain for a long time.
I noticed a big improvement in my breathing, as well as my posture after just one session! You also spent one session on my left lower leg and I feel so much better since our session.
I was diagnosed with a giant cell tumor in 2000, and have since had 2 extensive surgeries, radiation, and 3 years of chemotherapy for my bone tumor. It has been a long journey and in just one session you have made a tremendous difference in my pain, restriction of motion, and cramping of my left leg and foot.
I am a nurse and I will help spread the word about how wonderful myofascial massage is, and how important it is in changing our lives for the better:) I will definitely come back for a session when you return to Michigan! Thank you for all that you do.....you are a true healer Howard!
Take care,
Claudia Palchak
Wyandotte Michigan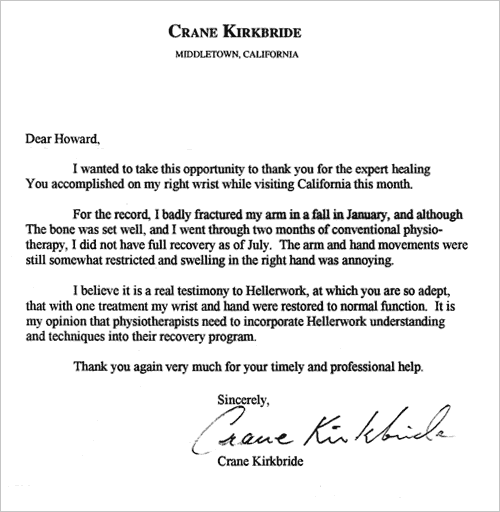 Pages: 12