General Testimonials 7
Hello Howard!
I wanted to drop you a quick note to let you know how much I enjoyed you Myofascial I & II senimars at OCM. I'm currently a senior in their program and I'm almost ready to graduate! Not only did I take your seminar for the credit hour requirements but also because everyone I asked about it said it was incredible. And gee, what an understatement!
I not only see tremendous results from the work but the confidence I gained through your style of teaching and encouragement throughtout the seminar is something I'll treasure and remember during my career as an LMT. Once again, thank you for everything! If you ever need a helping hand in the Ohio area, I'd love to offer mine!
Sincerley,
Jill M. Perline
Cortland, Ohio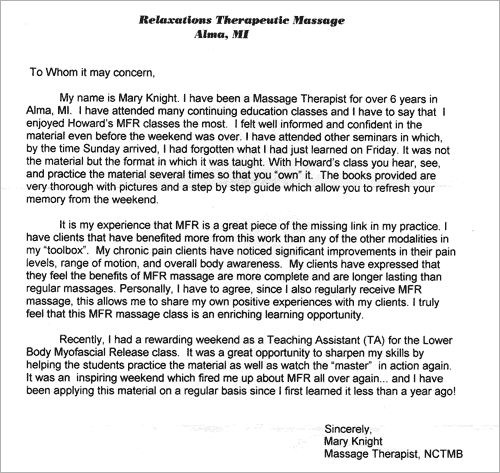 Dear Howard,
I received a lovely tea set from a client that I have had for a while and that I had recently given a myofascial treatment to. The gift was an antique, one of a kind 6piece set. I thanked her very kindly and immediately placed it in my china closet thinking,"I'll never use this but it's nice to store away." Then, after getting up this early am to put my usual large pot of Jewish penicilin on to brew and make 6 loaves of organic bread for the elderly and sick in my area....I kept finding my eyes glancing over at that tea set.
What a foolish decision it is to keep treasures and never use them in life. The same is so true of the treasure you've wrapped up so nicely and given to our class. And as treasures go, sometimes we can find it...but, more often than not..we dig and dig and never seek a single pearl. This "miracle" bounty has helped already many of the people I used to do general massage on..and a few newer clients that I just offered to help.
No one has said anything under that, "This is amazing!" "Awsome!" "Unbelievable" etc..etc..etc...yeah better than inn "the king and I." I was in Poaris area of Columbus and went for ice cream at the "stone cold" and the young guy was trying his best to scoop out ice cream to all of us screamers and I noticed he winced and asked him how his wrists were doing??? He said he was only 18yrs old and already needing to see his doctor again because of carpal tunnel issues...
I privately said that I have learned of a treatment that might help and asked him if he could deliver my order last and come to my table for the hand and arm myofascial treatment? He did and his boss didn't care because he too wanted a treatment. The kid's eyes rolled back in his head and a great big smile came forth!! He told me that he has had pain each and every day for the whole summer into fall and it was gone?
I also have an off and on client that is unemployed and used to do harness wiring for a company connected to Delphi....she has worked there for over 12 yrs and has bound up her shoulders, arms and hands...pain galore. I offered for her to come for two hours at my home and worked long on her....she was simply sooo grateful as her company just called her back this week and she was feeling helpless but needed to work without the boost. The treatment gave her back the boost and more....she was actually a happy gal and said that depression has left her. I gave her the treatment at no cost because the payback was written all over her face.
Another women whose job is a pressured position at a local bank in upper management. She had a three hour treatment because I was slower and more hard on her...her request...she is a chain smoker and will be 40 in Jan. so much mender in her muscle system and emotional nature...I will write more on her at a better time..but she wants to write you a note which I'll share next class time. I took before and after pictures of the last two to show the difference myo makes!!
Today, after my deliveries and church I am scheduled to work on a truckdriver, farmer...I just know that this too will be wonderful! Treasures are rare to find...and even better when used and shared. I am planning a tea party for 80 to 90 yr olds...to let you know that I will never again let something lay in a closet.
Thank you many times over,
Rhonda the grasshopper

Hi Howard,
Thanks for the call. I am happy to achieved my certification.
As I had said, the bulk of the massages I give I use Myofascial Release Massage. Everything else, Swedish, Hot Rocks, Active Isolated Stretching, is support based. Just the other day I gave an 85 year old woman MRM on her hands, making her happy and surprise to be able to close and open her hands. I do not know why the elderly believe there bodies are to be rigid. I treat a man in his 60's who has been athletic since his teens and never stretch in his entire life till he started seeing me.
His body was rock hard with cords for muscles. With MRM I get him mobile and flexible and with AIS he maintains my work. It is a slow process since I have to work with all his injuries he has suffered through the years, as well as wait for him to believe in stretching incorporating a whole lifestyle change in his mind. [:-]] I am proud to say it is happening, in baby steps.
The TMJ type work you did on me I could really use, another woman in her 50's came to me for a Swedish Massage, that turned into a MRM. I was not able to get all the tension out of the neck area, though she was happy with my work and schedule another session. So, let me know when your advance class reaches Bancroft.
Oh, I am still feeling great after your work on me, though the right rib bothers me now and then. Tomorrow I will begin taking yoga again. [:-]]
Thank you,
Janet E Hellweg, Mass LNCMT
LightPath Massage Therapy

Dear Howard,
I just wanted to thank you for teaching the MRM Upper Body class at AKS last weekend. It was extraordinarily well organized and clearly presented, and I am thrilled to have so many effective new strokes to use.
Thank you for the wealth of knowledge and experience that you shared. I think I'll incorporate strokes gradually into my sessions until I can do the whole routine without consulting the manual. I plan on practicing a lot and already have some volunteer bodies.
My back feels longer and my shoulders broader since the class. Today at yoga my shoulders and neck were noticeably more open and relaxed, and my lower back felt more flexible.
I forgot to put on my evaluation that Tracey is a fabulous assistant. She was very attentive and helpful to everyone while always keeping "the big picture" in mind. I was amazed to discover she has been doing MRM for only a year.
I liked your teaching style a lot — very focused but also relaxed and amenable. I think the combination helped us absorb a tremendous amount of information in a relatively short time. I'm looking forward to the Lower Body class in June.
I will be in contact soon to schedule a session with you, probably not so much for the migraine issue as for neck, shouder, and hip release. If the migraines go into remission, so much the better. If not, I'll still feel happier in my body.
All the best,
Marybeth

Dear Howard,
After taking both of your Myofascial I and II courses, I not only feel like a different person, physically; but your unique 'high IQ/ high EQ' perspective on bodywork has inspired me to be a better person, emotionally.
My education from you has professionally manifested in long-term clients with better posture and senses of well-being.
Thank you for acknowledging your teacher/healer calling, Howard.
Sincerely,
Laura Pillarella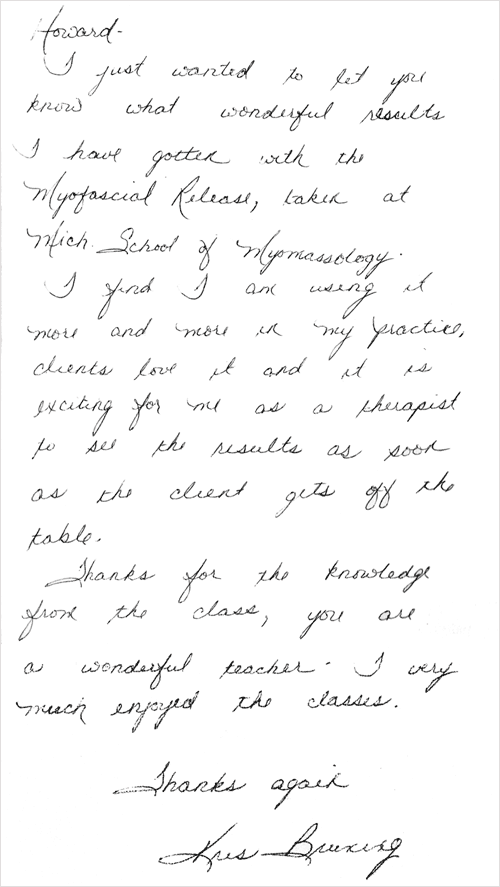 Howard,
I heard that your wkshp at BSMT was a grand success! Excellent! Ernie Ezersky loved everything about it and talked about it in one of our staff meetings. Way to go!
Di

Howard
I took the MFR class offered in Va Beach with Scott and was able to put the techniques to work with immediate results. Every benefit that I experienced with the work so did my clients. Thank you so much for sharing your modality. I look forward to future classes.
Regards,
Angela
Dear Howard,
I want to tell you again how much I liked your class and how useful it was for me. After a week, I've used it extensively, both in practice sessions with fellow massage therapists to get a sense of the flow of the whole sequence, and with clients for area releases.
"I feel looser. I can move better." These are the main responses so far. Is there a better way to get at supraspinatus with very small boned, thin women? I've worked with three of them this week and my fist won't go through easily. The heel of my palm works better but the turning is awkward.
I wait with great anticipation for your phone call about an appointment with you for a MFR Massage. I already need it!
Thanks again for teaching us from your heart.
Lorraine Richey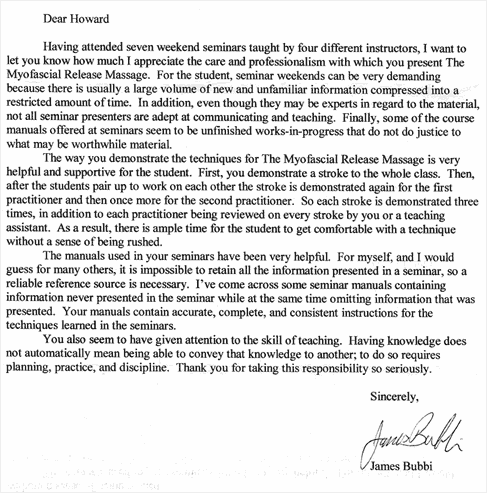 Hi Howard:
Thanks so much for the great continuing ed. courses, Myofascial Release Massage, lower and upper body! I'm so glad that I have now taken both segments of this wonderful work. Of all of the CEU's that I have taken, I find MRM the most useful! It is simple, and so effective. My clients love it and so do I.
Thank you again,
Kelly Blair, CMT
Ashburn, VA.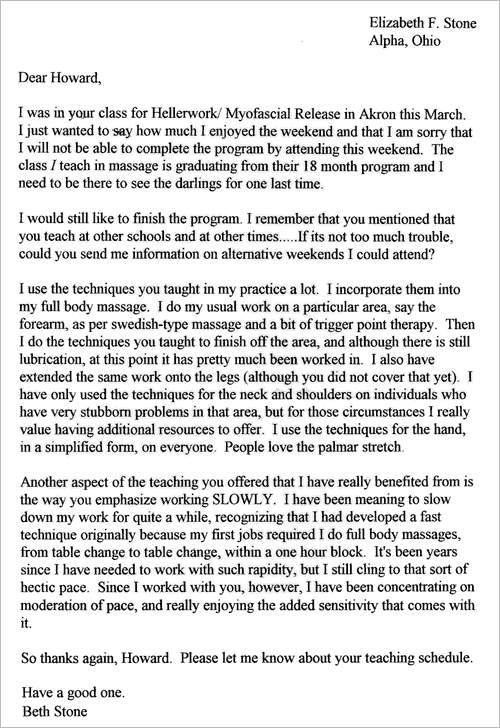 Hey Howard,
What a great experience taking your workshop this weekend was! Thank you, thank you, thank you. I wanted to share some results from clients I have worked on before I took your workshop and after.
This AM:
Client 1: I feel a lot more range of motion and also a lot more blood flow. Relaxation in some of the muscles that were tight that I never felt before.
Client 2: Hard to explain difference, but there is a difference. All good!. Seemed a lot more painful, but afterwards it felt looser in areas I had not felt loose before. I left happy.
Client 3: Felt more opened and stretched, more range of motion, more blood flow.
This PM:
Client 1: I feel a much better release, stretch. What a great difference.
Client 2: It was very relaxing, I think it loosened me up more now than before plus it doesn't take long to feel the difference.
Client 3: I was energized and relaxed more. More circulation.
Howard, the chiropractor I work for on Mondays said "okay, after all of these fabulous reviews from the clients, I want to experience what you are doing." Can't get any better than that except for a raise:) All felt they benefited from me going to the workshop. I know, practice, practice, practice!
Bless you,
Karen Kovalcik, LMT
Ohio Injury Center
61 West Aurora Road,
Northfield, Ohio 44067
I attended Howard Rontal's course of Myofacial Massage in the fall of last year. I registered for this course after my phone conversations with one of the instructors and with Mr. Rontal.
Mr. Rontal's background and years of experience working with Structural Integration gives him the knowledge and ease to teach Myofascial Massage. Most of the bodywork that I now do is based on his teachings. It has made my work easier, more productive and I am eager to learn more about this form of bodywork.
My clients had very little resistance receiving this work and some were happy not to have oil on their body. Myofascial Massage has increased the amount of support I can provide for each and every client.
I highly recommend this course to all practicing massage therapists who desire to add myofascial work to their tool kit.
Antonio Moreano, MT

Dearest Howard Rontal
It is with excitement to express my contentment with the broad knowledge you provided during phase 1 of your Mayofacial Realease workshop.
Very enthusiastically done with cheap off stage humor but never the less but found it delightful fun and informative. < You Rock Howard! >
Tracey and Jack at your side were very pleasant as well and supportive through entire class. Your seminar is definitely a sharpening tool to my skill of neuromuscular, sport massage and deep tissue techniques. I already did my first client this morning with Myofacial Realease during a neuromuscular session on my regular costumer. Success was more eminent with enthusiastic comments.
Thanks to you Howard your concept is San Frantastic and can't wait to explore more of it! Hope to hear from you from time to time have a great Spring Season.
With Love Compassion Gratitude
PEACE
Intimately yours,
James Lee
Licensed Massage Therapist 413-330-8063